Archive for December, 2009
by firestorm_v1 on Dec.29, 2009, under How-To's, Linux, Software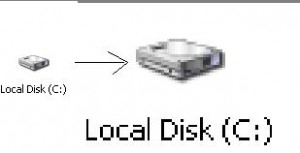 (Ok, innuendo aside…)
Well, the Christmas/Yule break is over with and it's time to get cracking.   If you were like me this holiday season, you were either placed in the position if needing to do a hard drive upgrade for someone else or you received a new hard drive of your own that warrants upgrading.  The CloneZilla site didn't contain very clear instructions for what to do so I decided to write this howto documenting the process. In this howto, I will cover using the free application "CloneZilla" to perform a hard drive upgrade on a test installation of Windows XP from 4GB to a 10GB drive.
13 Comments
:How-To's, Linux, network boot, PXE, Ubuntu
more...
by firestorm_v1 on Dec.25, 2009, under Site News
From all of us here at YWIV, wishing you and yours a blessed and happy Christmas this year.
Look for a new post within the next few days that might help with any yuletide hard drive upgrades. 🙂
Comments Off

on Merry Christmas!
:
Site News
more...